2022 IOCCG Summer Lecture Series
Frontiers in Ocean Optics and Ocean Colour Science: 18-29 July 2022
Overview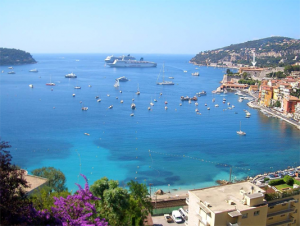 The 5th edition of the advanced IOCCG Summer Lecture Series is scheduled for 18-29 July 2022 in Villefranche-sur-Mer (assuming global travel restrictions have been lifted).  The course will be held at the Laboratoire d'Océanographie de Villefranche (LOV), which is part of the IMEV (Institut de la Mer, de Villefranche), and hosts the Marine Optics, Remote Sensing, and Biogeochemical Applications group.
As in previous years, this high-level training course will be dedicated to the fundamentals of ocean optics, bio-optics and ocean colour remote sensing. Several distinguished  research scientists will provide lectures on cutting edge research, with focus on current critical issues in ocean colour science. Students will have ample opportunity to meet with lecturers for in-depth discussions on various pre-selected topics, as well as on their own scientific research.
Practical lab sessions will also be conducted to help students understand absorption, scattering and the colour of the ocean. Students will learn how to collect high-quality in situ data, and how to interpret the measurements.
Note that the Summer Lecture Series is an advanced training course targeted at students conducting ocean color research, and is not suitable for beginners with limited knowledge of remote sensing.  The course will address theoretical aspects and advanced science questions, rather than practical applications.
The new "Jules Barrois" accommodation building at LOV will provide shared accommodation for all course participants.
Course Delivery
Lecturers for the course will be research scientists from the global ocean colour and ocean optics community, with several lecturers from past editions delivering content in 2022.
The emphasis of the course will be on current critical issues in ocean colour science, and will consist of lecture-style discussions, with a few hands-on practical sessions. A range of topics will be covered in the course and will depend upon the expertise of the invited lecturers.  Most likely the following subject areas will be included (to be updated, once lecturers have been confirmed):
Inherent optical properties (inversion and applications in coastal and open ocean waters)
Errors and uncertainties in ocean colour remote sensing (emphasis on inverse modelling)
Radiative transfer in the ocean: shallow water remote sensing and HydroLight training
Ocean colour remote sensing in optically-complex coastal waters
Atmospheric correction
Retrieving phytoplankton biomass and functional groups
In situ measurements
Video recordings and PowerPoint presentations of all previous IOCCG Summer Lecture Series are available online at https://ioccg.org/what-we-do/training-and-education/lectures/
Course Sponsors
We thank the organisations listed below for sponsoring and supporting the 2022 Summer Lecture Series. Other sponsors may be added at a later stage.
EU Framework Partnership Agreement for Copernicus Users Uptake (FP-CUP)
EUMETSAT (European Organisation for the Exploitation of Meteorological Satellites)
Institut de la Mer, de Villefranche (IMEV)
Laboratoire d'Océanographie de Villefranche (LOV)
CNES (French National Space Centre)
Ocean Carbon & Biogeochemistry (OCB) Project Office, Woods Hole, MA, USA
CNRS/INSU (French National Center for Scientific Research)
International Ocean Colour Coordinating Group (IOCCG)
Lecturers SLS 2022
Emmanuel Boss – University of Maine, ME, USA
Collin Roesler – Bowdoin College, ME, USA
Mike Twardowki – Harbor Branch Ocean. Inst., USA
Dariusz Stramski – Scripps Institution of Oceanography, USA
David Antoine – Curtin University, Australia
Heidi Dierssen – University of Connecticut, USA
John Hedley – Environmental Computer Science Ltd, Tiverton, Devon, UK
Kevin Ruddick- Royal Belgian Institute of Natural Sciences, Belgium
Quintin Van Hellemont – Royal Belgian Institute of Natural Sciences, Belgium
Hayley Evers-King – EUMETSAT, Germany
Ben Loveday – EUMETSAT, Germany
Ana Ruescas – Brockmann Consult GmbH and Universitat da València, Spain
Selected Students SLS 2022
Isabel De Sousa Brandão   –   Royal Netherlands Institute for Sea Research (NIOZ), Netherlands
Amir Masoud Chegoonian    –   University of Waterloo and University of Regina, Canada
Anastasia Papadopoulou   –   Democritus University of Thrace, Greece
Sejal Pramlall   –   Spectral Remote Sensing Laboratory, University of Victoria, Canada
Giulia Sent   –   MARE-ULisboa, Portugal
Esther Patricia Urrego   –   Laboratory for Earth Observation, Image Processing Laboratory (IPL), University of Valencia, Spain
Masuma Chowdhury   –   Quasar Science Resources (Madrid) and University of Cadiz, Spain
Chandanlal Parida   –   Indian Institute of Science (IISc), India
Premkumar Rameshkumar   –   Annamalai University, India
Yulun Wu   –   University of Ottawa, Canada
Shun Bi   –   Helmholtz-Zentrum Hereon, Germany
Žarko Kovač   –    Faculty of Science, University of Split, Croatia
Samuel Martin   –   Laboratoire d'Océanographie de Villefranche (LOV), France
Flavien Petit   –   Institut de la Mer de Villefranche (Sorbonne Université), France
Bastian Raulier   –   Université Laval, International Research Laboratory Takuvik, Quebec, Canada
Jakob Weis   –   University of Tasmania and Australian Research Council Centre of Excellence for Climate Extremes, Australia
Muhammad Asim   –   Department of Physics and Technology, UiT The Arctic University of Norway (UiT), Tromsø, Norway
Kyeong-Sang Lee   –   Korea Institute of Ocean Science & Technology, South Korea
Elinor Tessin   –   University of Bergen, Norway
Patrick Clifton Gray   –   Duke Marine Lab, Nicholas School of the Environment, Duke University, USA
Anvita Kerkar   –   Harbor Branch Oceanographic Institute, Florida, USA
Chintan Maniyar   –   Department of Geography, University of Georgia, USA
Md Masud-Ul-Alam    –   The University of Georgia, USA and BSMR Maritime University, Bangladesh
Anna Elizabeth  Windle   –   University of Maryland Center for Environmental Science, Horn Point Laboratory, USA