IOCCG news bulletins include items of interest from the IOCCG, its sponsoring agencies, as well as the broader ocean colour community (including new publications). Please let us know if there are any other items of interest you would like to see included in the next IOCCG news bulletin (contact Raisha Lovindeer, with a cc: to Venetia Stuart).  You can also follow IOCCG on Twitter.
---
IOCCG News
26th IOCCG Committee Meeting
The 26th IOCCG Committee Meeting was held in hybrid format from 27 – 29 June 2022, hosted by the European Space Agency (ESA) in Frascati Italy. The meeting was attended in-person and virtually by Scientific Committee members as well as representatives from space agencies across the globe. The members were updated on the activities of the two active IOCCG Scientific Working Groups on Atmospheric Correction and on Benthic Reflectance, as well as a close-out report of the working group on the synergy between ocean colour and biogeochemical and ecosystem models, which resulted in Report 19: Synergy between Ocean Colour and Biogeochemical/ Ecosystem Models. Members were also updated on the continued work of the two active IOCCG task forces on Ocean Colour Satellite Sensor Calibration and Remote Sensing of Marine Litter and Debris, and discussions took place on the proposed task force on ocean colour system vicarious calibration (OC-SVC), revising the "Ocean Carbon from Space" task force, and facilitating a round-robin with hyperspectral datasets.  
Other interesting discussions focussed on the need for higher quantitative data at 1-km spatial resolution over coastal waters (new coastal driven processing), the generation of water-quality operational products from very high resolution data (e.g., Sentinel-2A/B and Landsat 8/9), establishing an international database of match-up data points, and seasonal biases in ocean colour. 
Plans for the next International Ocean Colour Science meeting were also reviewed, and the meeting is tentatively scheduled for 13-17 November 2023, to be hosted by the University of South Florida, in St. Petersburg, USA. The final minutes of the meeting are available on the IOCCG website at https://ioccg.org/what-we-do/committee-meetings/. 
New IOCCG Chair and Committee Members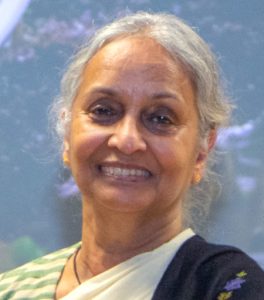 One of the requirements of being an Affiliated Program of SCOR is the regular rotation of IOCCG Committee members. Bryan Franz (NASA GSFC) officially rotated off the Committee and was replaced by Jeremy Werdell (NASA GSFC).  Bryan was thanked for his valuable contributions over the past few years, and Jeremy was warmly welcomed onto the Committee. We also warmly welcome Mark Baird (CSIRO, Australia), who accepted his nomination to join the IOCCG Committee for his expertise in using ocean colour in ecosystem modelling, and look forward to working with him over the course of his term.
At the end of the IOCCG-26 meeting the IOCCG Chair was also officially handed over from Cara Wilson (NOAA/NMFS, USA) to Shubha Sathyendranath (PML, UK).  Cara was thanked for her hard work and dedication in guiding the IOCCG Committee over the past five years, and Shubha was warmly welcomed onto the Committee. We all look forward to working with her over the next few years.
5th IOCCG Summer Lecture Series
The 2022 IOCCG Summer Lecture Series was was recently hosted by the Institut de la Mer de Villefranche (IMEV) in Villefranche-sur-Mer, France (18 – 29 July 2022) and was supported by contributions from CNES, Copernicus Program, IMEV, LOV, EUMETSAT, IOCCG, OCB Program (USA), RBINS and Sea-Bird Scientific (for providing an AC-S Spectral Absorption and Attenuation Sensor for the practical sessions).
The two-week advanced training course was attended by 23 students from 14 different countries (out of a total of 145 applicants) along with 11 passionate and dedicated lecturers who delivered a wide range of lectures on the fundamentals of ocean optics and atmospheric correction as well as various applications and hands-on practical lab sessions.  Group discussion sessions facilitated interaction between the students and lecturers, both on topics from the lecture series, as well as their own scientific research.  Judging by the feedback from the students, the training course was a huge success with students saying that it was one of the most exciting experiences ever, with great instructors and friendly students!  Thank you to all the energetic lecturers who volunteered their time to teach at this event. The lecture slides and video recordings of all the lectures will soon be posted on the IOCCG website at: https://ioccg.org/what-we-do/training-and-education/lectures/.  This is an excellent resource on a range of ocean-colour related topics.
---
Inaugural IOCCG Trevor Platt Memorial Scholarship
The IOCCG has opened applications to the inaugural award of the Trevor Platt Memorial Scholarship for ocean colour research and training, in honour of the late Professor Trevor Platt. Among many other accomplishments, Trevor was a founding member of the IOCCG and first Chairman of the group from 1996 to 2006. The Scholarship aims to provide students and early career scientists from developing countries or economies in transition with the opportunity to gain valuable experience in ocean colour remote sensing and applications. Graduate students and early career scientists (within 5 years from a PhD) from any of these eligible countries are encouraged to apply. Two scholarships will be issued for the inaugural award. Read the full announcement on our website: https://ioccg.org/what-we-do/training-and-education/platt-scholarship. Applications close on 11 November 2022.
New Research & Employment Opportunities
3-year Postdoctoral Research Associate at Skidaway Institute of Oceanography of the University of Georgia (SkIO), USA
2 year Postdoc Research position in British Columbia, Canada
Post-doc/Research Scientist in Ocean and Atmospheric Optics at City College of the City University of New York, USA
4-year PhD Research Fellowship position in Marine Optics at the University of Bergen, Norway
3-year Postdoctoral Research Associate in Satellite Ocean Colour Algorithm Development in the Eastern Mediterranean at the Institute of Oceanography of the Hellenic Centre for Marine Research, Crete, Greece
Check the employment opportunities page for these and other employment and research opportunities. If you would like to include a position on this page, please contact Raisha Lovindeer