News from the IOCCG
IOCCG Summer Lecture Series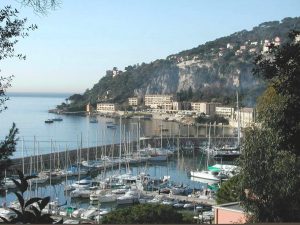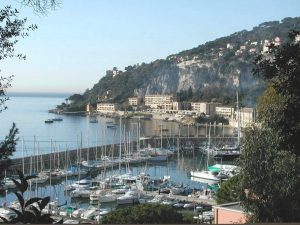 Applications are now open for the fourth IOCCG Summer Lecture Series "Frontiers in Ocean Optics and Ocean Colour Science", dedicated to high-level training in the fundamentals of ocean optics, bio-optics and ocean colour remote sensing.   This advanced training course is scheduled to take place from 25 June – 7 July 2018 at the Laboratoire d'Océanographie de Villefranche (France), which is part of the Observatoire Océanologique de Villefranche (OOV), and hosts the Marine Optics and Remote Sensing group (MORS).
Several renowned scientists will be invited to lecture on cutting edge research focusing on current critical issues in ocean colour science.  Dedicated interactive discussion sessions will allow students the opportunity to discuss their own research with leaders in the field as well as various hot topics.  Several practical laboratory sessions will help students understand absorption, scattering and the colour of the ocean and will also demonstrate how to collect high-quality in situ data and interpret the measurements.
For application and further details on the course, see the SLS-2018 training course website at http://ioccg.org/what-we-do/training-and-education/ioccg-sls-2018/. 
News from EUMETSAT
Sentinel-3 Validation Team meeting


The fourth S3VT meeting will be held 13-15 March 2018 in Darmstadt, Germany, at the EUMETSAT Headquarters. Registration is open on the conference website and it closes on 1 March 2018. Abstracts can be submitted for oral or poster presentations with the deadline of 31 January. Looking forward to seeing you in Darmstadt in March 2018!
Updates on Sentinel-3 OLCI
From January 15, a reprocessed version (baseline 2.23) of the Level 1 and Level 2 Ocean Colour data from OLCI aboard Sentinel-3 is available from EUMETSAT. The reprocessing delivers a consistent OLCI full mission time series from 26 April 2016 and matches the current operational processing. Three improvements have been implemented in this processing version. Firstly, the OLCI Radiometric Evolution Model, which ensures long-term stability of Level-2 products, has been upgraded. A reduction in occurrence of horizontal and vertical striping in products has been achieved with both an updated configuration of Dark Correction to limit dark-offset periodic noise, and filtering of High Energy Particles from radiometric calibration data. Improvements have also been made with regards to inland waters, including updated flagging of Complex Water Neural Network (NN) products to eliminate masking of inland waters, and updated gaseous correction in Open Water products.
Full details on the reprocessing, and information on accessing the reprocessed and current data to obtain a consistent time series of OLCI data is available here: https://www.eumetsat.int/website/home/News/DAT_3775853.html.  For more information on the OLCI products and to access the Sentinel-3 OLCI Marine User Handbook check out the S3OceanColour website.
Sentinel-3 Marine Data Training Opportunities
Over the last 6 months EUMETSAT, supported by a team from Plymouth Marine Laboratory, CLS, Brockmann Consult, and Imperative Space, have been developing and implementing training activities for Sentinel 3 marine data.
Two week courses are now running several times a year to introduce participants to the Copernicus Marine Data Stream, covering ocean colour, SST and altimetry. The courses consist of a week of online content, and an interactive week in classroom for practical tutorials and participant-led mini project work supported by trainers. So far these courses have been run with the support of the IODE in Oostende, and the University of Accra in Ghana. The next of these courses will take place with the support of LEGMC in Riga, Latvia. Other training events have also taken place in collaboration with community events; including conferences (at IOCS in Lisbon, and SAFARI2 in Kochi), and workshops (at the recent GODAE summer school). Upcoming confirmed events will take place in collaboration with COST and BSH, in Hamburg, the IOCCG Summer Lecture Series, and at the Ocean Optics conference. Further collaborative events are planned to focus specifically on SST and altimetry. Training opportunities that are open for applications can be found at http://training.eumetsat.int
In addition to training events, an array of training resources for independent learning is being developed. Video tutorials for data access, and basic visualization and quality assessment with SNAP, are now available on the EUMETSAT YouTube channel
Please contact Copernicus.training@eumetsat.int and hek@pml.ac.uk for further information or to discuss collaborative opportunities for training.
Sentinel-3 OLCI Inherent Optical Properties
The last two decades have been characterized by an increased interest in inverse methods dedicated to the estimation of inherent optical properties (IOPs) of natural surface waters from ocean colour remote sensing observations. The ability to retrieve IOPs from space offers particular benefits of improving the investigations of biogeochemical status of the surface oceanic layer at large basin and global scales over long periods of time. Observation of IOPs from space also allows monitoring of water quality status of coastal and inland waters at unprecedented spatio-temporal scales. Hubert Loisel (LOG, France) together with colleagues from LOV and ACRI will undertake a 12-month study aimed at developing IOP products for Sentinel-3 OLCI as part of a EUMETSAT Copernicus study. They will implement a review process as well as product validation using two kinds of semi-analytical approaches (one-step and two step algorithms). First, semi-analytical models, which aim at simultaneously estimating the backscattering and absorption components of total IOPs using reflectance data as input to the inversion algorithms, will be tested. These one-step algorithms will be developed within the GIOPs framework (Werdell et al., 2013). The second family (two-step algorithms) will assess total IOPs then estimate the components' IOPs in a stepwise fashion. Synthetic and in situ data sets collected in open-ocean, coastal and inland waters will be used for validation, and uncertainties will be provided for each parameter. An international science team will be associated with the project to review the study.
Reprocessing for SNPP/VIIRS and MODIS-Aqua
In mid-December 2017, the Ocean Biology Processing Group (OBPG) at NASA  completed  the ocean colour reprocessing for Suomi NPP/VIIRS.  All Level-2 and Level-3 products distributed by the NASA Ocean Biology – Distributed Active Archive Center (OB.DAAC), through the NASA  ocean color web now reflect the R2018.0 reprocessing changes.
Full-mission ocean colour reprocessing of the data from MODIS-Aqua was also recently completed. This reprocessing is part of a multi-mission effort to update the instrument calibrations and vicarious calibration. Sensor-independent changes are detailed in the R2018.0 Ocean Color Reprocessing General Description.  Full  details of the MODIS-Aqua  reprocessing 2018.0 are described on the NASA website, and  an assessment of data quality and impact relative to the previous R2014 MODISA reprocessing is also provided. Reprocessing of the SeaWiFS and MODIS-Terra missions will soon follow.
Webinar on NASA's SeaBASS Bio-optical Archive and Storage System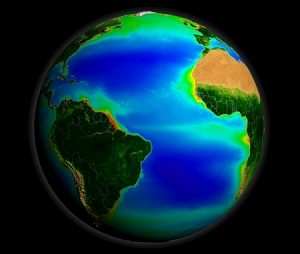 The featured presentation of the NASA Earthdata Webinar for January was the "Bio-Optical in situ Data Discovery and Access with SeaBASS", as presented by Joel Scott of NASA's Ocean Biology Processing Group.   SeaBASS, which stands for the SeaWiFS Bio-optical Archive and Storage System, is NASA's data archive for in situ oceanographic and atmospheric datasets maintained by the Ocean Biology Distributed Active Archive Center (OB.DAAC) at NASA's Goddard Space Flight Center. In addition to serving as a data repository, SeaBASS operates as a ground-truth, satellite validation and comparison system in support of NASA's satellite ocean color missions, which take measurements of Earth's ocean and atmosphere. The webinar focused on how the SeaBASS  archive can be accessed and searched, and demonstrated how SeaBASS supports NASA's ocean color satellite products and the broader scientific community through data management and value-added post-processing features of the SeaBASS tool suite. The webinar also included a brief overview of satellite ocean color remote sensing concepts that are relevant to how the SeaBASS bio-optical archive and validation system functions.   A recording of the webinar is available at https://youtu.be/qnSj8otvHHU.
Successful Launch of JAXA's GCOM-C Mission  
The Japan Aerospace Exploration Agency (JAXA) Global Change Observation Mission – Climate (GCOM-C), also called "SHIKISAI" , was successfully launched on 23 December 2017 from the Tanegashima Space Center in Japan.  The payload includes the Second Generation Global Imager (SGLI), an advanced multi-purpose visible/infrared imager of GLI heritage.  This instrument will  measure ocean colour, land use and vegetation, snow and ice, clouds, aerosols and water vapor.  The mission is currently in the commissioning phase and the function of all the onboard sensors and other instruments will be verified.
The primary goal of the GCOM-C mission is to contribute to surface and atmospheric measurements related to climate change with emphasis on the carbon cycle and the radiation budget. JAXA recently released some of the first observation images of the Earth acquired by GCOM-C, including composite images of land vegetation,  aerosols  over the Ganges River and ocean colour composite images from the sea around Japan. See http://suzaku.eorc.jaxa.jp/GCOM_C/monitor/gallery/20180112.html for further details.
JAXA will continue the initial functional verification of the satellite and instruments (for about three months after launch) after which data accuracy will be confirmed, and  initial calibration and data correction performed. GCOM-C data, including Level-1, will be open to the public one year after the launch.
News from NOAA

NOAA SDR Improvements for VIIRS NOAA-20 as of 5 January 2018
Significant improvements to the NOAA Satellite Data Record (SDR, i.e., L1B) for VIIRS NOAA-20 for calibration and geolocation were implemented as of 5 January 2018.  NOAA MSL12 ocean color products are quite improved with this update, for example, chlorophyll now looks more consistent with VIIRS SNPP (see both NOAA-20 and SNPP global true color images and OC product images side-by-side on the NOAA/STAR Ocean Color website). Thanks to the NOAA VIIRS SDR team for their quick response.  The NOAA Ocean Color Team is automatically and routinely processing VIIRS NOAA-20 and has been processing daily ocean color data in near-real-time for VIIRS NOAA-20 since its door opened on 13 December 2017 but with sporadic Satellite Data Record (SDR, i.e., L1B) input.  Of course, there is still work to be done at this early stage.  Ocean Color data products for VIIRS NOAA-20 can be viewed in OCView and will be distributed through NOAA CoastWatch/OceanWatch.  For more about JPSS NOAA-20, see this announcement by Paul DiGiacomo.
News from ESA
Copernicus Data and Information Access Services (DIAS).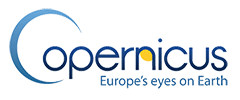 Vast quantities of environmental satellite data are now freely available to users, thanks to the European Union's Copernicus Programme. The European Commission (EC) is now making it easier to access this data and information and also avoid issues associated with downloading and storing the data. To this end, the EC has launched the Copernicus Data and Information Access Services (DIAS). ESA, acting on behalf of the EC, has signed DIAS contracts with four industrial consortia.
DIAS will give unlimited, free and complete access to Copernicus data and information through a cloud computing architecture enabling enhanced coordination and cross-fertilization. Researchers will be able to exploit Copernicus data and information without having to manage transfer and storage on their own computer systems. Early operations are set to start within ~six months, with the demonstration of the infrastructure capabilities, preliminary access to data sets and initial service delivery. DIAS will not only provide a cloud-based one-stop shop for all Copernicus satellite data and imagery as well as information from the six Copernicus services, but will also give access to sophisticated processing tools and resources.
U.S. National Research Council Space Studies Report
The U.S. National Research Council Space Studies Board released the report of their study, "Thriving on Our Changing Planet: A Decadal Strategy for Earth Observation from Space: 2018" on January 5, 2018.  It can be downloaded for no charge from the URL below (see link on right-hand side of page):
https://www.nap.edu/catalog/24938/thriving-on-our-changing-planet-a-decadal-strategy-for-earth
The Ecosystem Panel report (Chapter 8), which is a component of the larger document, discusses terrestrial and ocean science questions, objectives and observations.  It prioritizes the objectives and observations.
It should be noted that the Steering Committee report (Chapters 1-5), also included in the larger document, is less favorable to ocean space observations than the reports of the Ecology and Climate panels.
Upcoming Meetings 2018
2018 Ocean Sciences
The deadline for registration for the 2018 Ocean Sciences meeting is 10 February 2018. The scientific program can be viewed online and has many ocean colour-related sessions as well as interesting Town Halls including:
SPIE Asia Pacific Remote Sensing
The conference Remote Sensing of the Open and Coastal Ocean and Inland Waters will take place from 24 – 27 September 2018 in Honolulu, Hawaii.  See "Call for Papers" for further details. Submit abstracts by 14 March 2018.
UNESCO World Water Quality Portal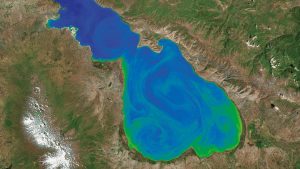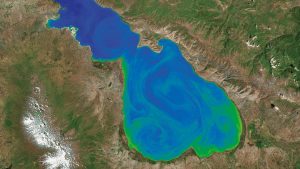 The UNESCO Water Quality Portal (http://www.worldwaterquality.org/) created by EOMAP, is a visualizer of satellite-derived water quality information for worldwide lakes, rivers and coastal areas.  The application allows users to interactively browse water quality products (e.g., turbidity, suspended matter, chlorophyll-a, harmful algae blooms) to select the region of interest and display various water quality parameters. These map-based time series of water quality parameters are available in a  range of temporal and spatial resolutions and are highly customizable.
Employment Opportunities
Several new positions have been added to Employment Opportunities on the IOCCG website including PhD/post-doc positions at the University of Waterloo (Canada), Université du Québec à Rimouski (Canada), Nantes University (France), University of North Carolina Wilmington (USA) and University of Vigo (Spain),  as well as Research Assistant/full time research positions at the University of Stirling (UK) , Plymouth Marine Laboratory (UK), City College of the City University of New York (CCNY)  and Sun Yat-sen University (China).