IOCCG news bulletins include items of interest from the IOCCG, its sponsoring agencies, and the broader ocean colour community. Please let us know if there are any other items of interest you would like to see included in the next IOCCG news bulletin by contacting Raisha Lovindeer (raisha@ioccg.org).
Registration & abstract submission still open for IOCS-2023

Thanks to those who have already registered and submitted abstracts to the 5th International Ocean Colour Science (IOCS) Meeting, which will take place at the University of South Florida, St. Petersburg, Florida, USA, from 14-17 November 2023. The theme for IOCS-2023 is Impact and Value of Ocean Colour Observations in a Changing World: Water in all its Colours, with a line-up of several exciting keynote speakers, breakout workshops, and talks on the emerging applications and science from the IOCCG space agencies.
The registration process must be completed in order to submit an abstract for the meeting, apply for a travel scholarship or sign-up for a training course. The deadline to submit an abstract or apply for a travel scholarship is 15 September 2023. The deadline to register at the regular rate is 14 October 2023, after which late registration fees apply. Discounted accommodation is available in St. Petersburg for meeting participants.
Six training courses will be offered at IOCS-2023 at no additional cost on Monday 13 November 2023. Training courses include:
NASA SeaDAS Training (9 am – 5 pm)

NOAA CoastWatch Tutorial On Ocean Satellite Data Products and Tools (9 am – 12 pm)

Ocean colour analyses with OLCI:ThoMaS toolkit (9 am – 12 pm)

SeaHawk-HawkEye Ocean Color CubeSat mission: What is it and how to request and use its data (9 am – 12 pm)

MAPEO-water: in the cloud processing for drone water applications (2 pm – 5 pm)

HyperCP: a best practice community processor for above-water radiometry (2 pm – 5 pm)
Read details of the training courses at https://iocs.ioccg.org/programme/training-sessions 
The 2023 GEO AquaWatch Biennial 1-day Meeting: Toward Water Quality Forecasting will also take place on 13 November 2023 in conjunction with the IOCS, from 8:30 am – 5pm in the USF Student Center, Ballroom 1. The deadline to register for the meeting on their website is 31 October 2023.
IOCCG-27 Committee Meeting
The 27th annual IOCCG Committee meeting was held virtually over four days from March 13 – 16, 2023. The meeting was modified to focus on discussions as it was held completely virtually, and was attended by representatives from space agencies and research institutions. The Committee discussed submissions for new IOCCG working groups, the terms of reference for new IOCCG task forces, and the IOCS meeting, including the breakout workshops. Additional topics included discussions on gaining consistency across missions for satellite data, and contributions to the CEOS Aquatic Carbon Roadmap. The final minutes of the meeting are available here.
IOCCG Committee Member Rotations
One of the requirements of being an Affiliated Program of SCOR is the regular rotation of IOCCG Committee members, who serve 3-year terms. At the end of the 2023 annual meeting, Emmanuel Boss (U. of Maine) and Joo-Hyung Ryu (KIOST representative) rotated off the IOCCG Committee. Additionally, Anne Lifermann retired from CNES and thus retired from her role as the CNES representative to the IOCCG. IOCCG sincerely thanks these members for their outstanding commitment and important contributions over the past many years.
We also extend a warm welcome to our new IOCCG Committee members: agency representative for the UK National Center of Earth Observations (NCEO), Steve Groom; Annick Sylvestre-Baron and Aurelien Carbonniere who will represent CNES for the remainder of 2023; and Jongkuk Choi, the new director of the Korea Ocean Satellite Center who joins the Committee as the agency representative for KIOST.
IOCCG Trevor Platt Memorial Scholarship now open for 2024
The IOCCG has opened applications to the 2024 award of the IOCCG Trevor Platt Memorial Scholarship. The scholarship aims to provide one student or early career scientist from a developing country or economy in transition with the opportunity to gain valuable experience in ocean and in-land water remote sensing and applications. Graduate students and early-career scientists (within 5 years from a PhD) who hail from these eligible countries are encouraged to apply. One scholarship will be awarded for 2024 at USD $5000. Read the full announcement here. Apply before 12 December 2023.
The two inaugural 2023 Platt Scholars are scheduled to present their research at the upcoming IOCS meeting in St. Petersburg Florida, USA. Also catch updates on their research activities in the next IOCCG news bulletin in November.
NASA PACE mission
The PACE observatory is completing its thermal balance / thermal vacuum (TBAL/TVAC) campaign. This is the last in a long series of tests that simulate the space environment. Once complete, the observatory will pursue a final series of comprehensive performance tests and data processing simulations before beginning its journey to Astrotech and Kennedy Space Center on Cape Canaveral, Florida, USA in early November. Launch remains planned for 9 January 2024.
See the latest issue of the PACE Community Newsletter and join the Community of Practice.
GLIMR
The Geostationary Littoral Imaging and Monitoring Radiometer (GLIMR) program recently completed its Critical Design Review (CDR). The project continues Phase C activities to assemble, integrate and test the GLIMR instrument for a scheduled delivery by mid-2025.
Recent Ocean Colour Training Events
Satellite-based tools for investigating aquatic ecosystems, Online and UK

A hybrid training course on satellite-based tools for investigating aquatic ecosystems concluded on 8 August 2023. The training course had two components: a 4-month online component held weekly on Wednesdays from April to July and hosted on Webex thanks to ESA and EUMETSAT, and a 2-day in-person component hosted at The Plymouth Marine Lab, UK.
The course covered remote sensing of ocean colour, water quality and human health, primary production, physiology and ecology of marine phytoplankton, and practical aspects of working with satellite data. The organizers greatly thank all the lecturers who volunteered their time for both the online and in-person teaching modules.
All online training modules (a total of 14) are available for viewing on the Trevor Platt Science Foundation YouTube page.
Training in Ocean Optics and Ocean Color Remote Sensing in China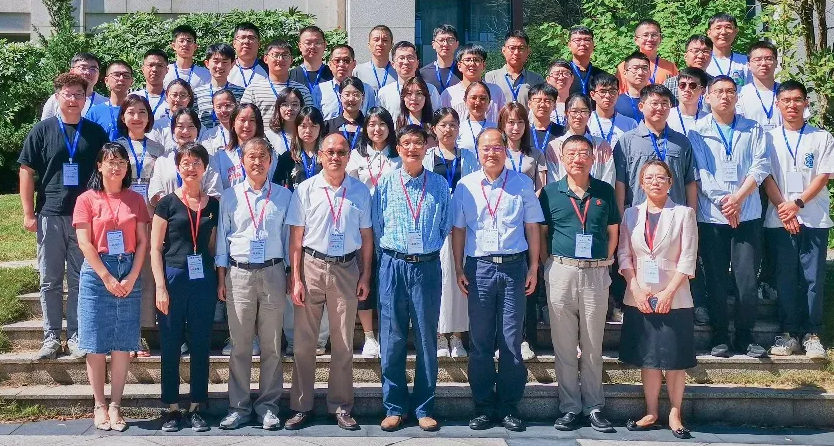 The 3rd Summer School in Ocean Optics and Ocean Color Remote Sensing in China was successfully held in Guiyang, Guizhou from 17-28 July 2023. This summer activity attracted more than 100 applicants from 59 domestic institutions, and eventually 34 students from 29 institutions were admitted. The teaching team consisted of 27 outstanding experts in the field of ocean color remote sensing (including all water types and related areas) from both domestic and international institutions.
Over the course of the 12-day summer teaching program, lectures were delivered on a wide range of topics including the fundamentals of ocean optics and radiative transfer theory, the relationships between apparent-and-inherent optical properties and inversion algorithms, phytoplankton pigments and photosynthesis, acquisition and processing of ocean color satellite data, applications and services of ocean color remote sensing products, in-situ measurement methods of optical parameters, ecosystem modeling by incorporating bio-optical properties, polarization and oceanic lidar remote sensing, remote sensing of sea-surface temperature, AI oceanography, data acquisition and application of BGC-ARGO, climate system models and its relation to ocean color, challenges of ocean color remote sensing in the new era, and artificial intelligence empowering the development of ocean color remote sensing. The summer class was also delivered live online, where the maximum number of viewers for a single session reached 9,970, with a total cumulative viewing count as 72,368. Like the previous two summer schools, this 3rd one was well received by the community.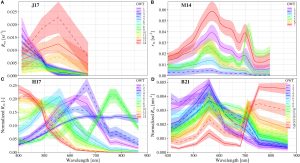 Classification of optical water types (OWT) is increasingly used to optimally determine water properties and enable seamless transitions between water types. However, effective exploitation of this method requires a successful atmospheric correction (AC) over the entire spectral range, i.e., the upstream AC is suitable for each water type and always delivers classifiable remote-sensing reflectances. Hieronymi et al., (2023) compare five different AC methods for Sentinel-3/OLCI ocean color imagery, namely IPF, C2RCC, A4O, POLYMER, and ACOLITE-DSF. Retrieved remote-sensing reflectance is evaluated in terms of spatial exploitability, individual flagging, spectral plausibility compared to in situ data, and OWT classifiability with four different classification schemes. It shows that it is beneficial if the performance spectrum of the atmospheric correction is tailored to an OWT system and vice versa. The study gives hints on how to improve AC performance, e.g., with respect to homogeneity and flagging, but also how an OWT classification system should be designed for global deployment.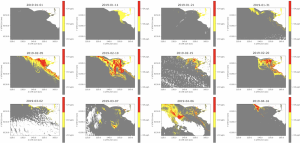 Coastal waters have high ecological and economic relevance and are globally threatened by intense human activities leading to eutrophication. The high resolution of Sentinel-2 Multispectral Instrument (S2-MSI) provides an advantage to detect spatially heterogeneous phenomena that are limited in extent, such as harmful cyanobacterial blooms (cyanoHABs). Chlorophyll-a is typically used in satellite remote sensing of blooms and has been retrieved using S2-MSI for case 2 waters, relying mainly on semi-empirical algorithms that are often regionally calibrated. However, such algorithms remain to be evaluated in several coastal regions of the world. The Río de la Plata estuary (South America) provides a key case study due to its highly variable concentrations of suspended sediments, and the increasing frequency of cyanoHABs. Maciel et al. (2023) evaluates S2-MSI band-combination indices to retrieve chlorophyll-a in these optically complex and dynamic estuarine waters, obtaining regional calibrations and comparing them to previously available ones. The impact of variable concentrations of non-algal particles in chlorophyll-a retrievals is particularly explored in the work, highlighting the limitations of commonly used indices. They finally propose the simultaneous use of two indices to follow the evolution of chlorophyll-a thresholds, 10 and 24 μg/L, which are of particular interest for monitoring programs of cyanoHABs in recreational waters and could contribute to early warning strategies.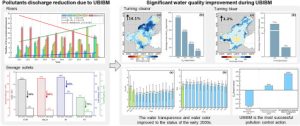 With marine pollution issues becoming serious and widespread, a series of coastal environmental management policies are being carried out worldwide, the effectiveness of which requires comprehensive evaluation. Taking the Bohai Sea (BS) of China as an example, which has been plagued by serious ecological and environmental issues for decades due to terrestrial pollution discharge, Xiang et al. (2023) explored and quantified the variability of water quality after initiating a dedicated 3-year pollution control action (Uphill Battle for Integrated Bohai Sea Management, UBIBM, 2018-2020) implemented by China's central government, with water quality indices of water color (Forel-Ule index, FUI) and transparency (Secchi disk depth, ZSD, m) from satellite observations. During the UBIBM, a significant improvement in water quality was detected, characterized by a clearer and bluer BS, with ZSD and FUI improved by 14.1% and 3.2%, respectively, compared with the baseline period (2011-2017). In addition, an abrupt drop in the long-term record (2011-2022) of the coverage area of highly turbid waters (ZSD≤2 m or FUI≥8) was found in 2018, which coincided with the start of the UBIBM, indicating that the water quality improvement may be attributed to the pollution alleviation of the UBIBM. Independent data of land-based pollution statistics also supported this deduction. This research provided a valuable example of satellite ocean color remote sensing playing a vital role in the management of coastal ecosystems by providing effective evaluation of pollution control actions.
Several new research and employment positions were added to the Employment Opportunities section on the IOCCG website including:
Research Technician/Associate in Marine Optics and Remote Sensing, Bigelow Laboratory for Ocean Sciences, USA
Research Fellow in Digital Water – University of Stirling, UK
Research Fellow in Earth Observation – University of Stirling, UK
PhD Position in remote sensing & bio-optics – University of Southern Mississippi, USA
Two PhD Positions in Earth Observation – CNR-ISMAR, Italy
PhD Position in Machine Learning and Remote Sensing, University of Louisiana, USA
Postdoctoral Scholars in Satellite Ocean Color Research & Applications, USF, USA
Earth Surface Optical Scientist, ESA, ESTEC, Noordwijk, Netherlands
EPA Fellowship on Satellite Water Quality Validation and Applications, Durham, NC, USA
PhD Position in Coastal Climate Change, Belgium
Research Scientist & Leader of Environment Bioanalytical Facility, CSIRO, Hobart, TAS, Australia
Research Scientist – NASA's Goddard Space Flight Center, Greenbelt, MD, USA
Graduate Student Position – University of Wisconsin, USA
Ocean Colour Remote Sensing Scientist – IBSS, Rhode Island, USA
Postdoctoral Position – University of Victoria, Canada
If you would like to include a position on this page, please contact Raisha Lovindeer (raisha@ioccg.org).