News from the IOCCG
IOCS-2019 Meeting


Registration for the 2019 International Ocean Colour Science meeting (IOCS-2019) is now open. Register early to take advantage of the heavily discounted registration rates, which apply until 31 December 2018 (see the registration page  for details).   Join your colleagues and space agency representatives in Busan, South Korea (9 -12 April 2019) to communicate your views, ideas, concerns and issues on all aspect of ocean colour remote sensing. The programme will include invited keynote lectures, emerging applications/science talks from space agencies, nine breakout workshops covering a wide range of topics, poster sessions and community Town Halls. Proposals for Chairs and Co-Chairs to lead and develop the scope of the nine breakout workshops can be submitted for evaluation by the IOCS-2019 Scientific Planning Committee until 15 November 2018. The NASA  Ocean Color Research Team (OCRT) meeting will take place on the 8th April, 2019, prior to the IOCS-2019 meeting, along with two training courses (Copernicus marine data stream and SeaDAS) .  Limited travel support will be available for graduate students. See the IOCS-2019 meeting website for further details.
IOCCG Report on Water Quality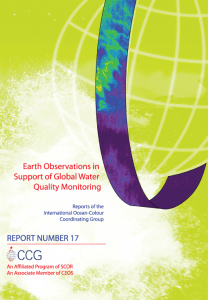 The final version of the IOCCG Report on "Earth Observations in Support of Global Water Quality Monitoring", edited by S. Greb, A. Dekker and C. Binding, is now available for download on the IOCCG website at http://ioccg.org/what-we-do/ioccg-publications/ioccg-reports/.  This report aims to strengthen linkages between data providers and end users by providing detailed information needed to support the development of an EO-based global water quality monitoring service. Current knowledge and gaps regarding coastal and inland water quality, and associated use of remote sensing data are described.  Existing space-based and in situ observing capabilities are also assessed. The report identifies user needs and requirements, observing capabilities, new and improved data streams and products, mission requirements, supporting research, and best practices.
The report has been printed by the State Key Laboratory of Satellite Ocean Environment Dynamics, Second Institute of Oceanography, China, which is gratefully acknowledged. Hardcopies of the report can be requested at: http://ioccg.org/request-hardcopy-ioccg-report-17/.  The number of printed copies will depend upon requests received, so please submit your requests as soon as possible.
NOAA recently printed copies of Reports 15 and 16 which is gratefully acknowledged.  Copies of these reports will soon be mailed to those who have requested them in the past.
DOIs Issued for IOCCG Reports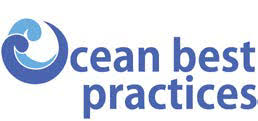 All 17 IOCCG Reports published to date have been deposited into the OceanBestPractices  (OBP) repository to enhance their scientific and outreach value.  OBP is an open access, permanent, digital repository of community best practices in ocean-related sciences maintained by the International Oceanographic Data and Information Exchange (IODE) of the UNESCO-IOC.  The IOCCG Reports will be more easily findable and citable since a DOI has been issued for each report.  The OBP is indexed by all the major search engines and harvested by repository aggregators.  See the IOCCG Community on the OBP website for the complete list of IOCCG Reports and their corresponding DOIs.  The IOCCG reports are also available for download from the IOCCG website at:  http://ioccg.org/what-we-do/ioccg-publications/ioccg-reports/.
Updating your Records in the IOCCG Mailing List
If you have a new email address, and were wondering how to update your information in the IOCCG Mailing List, please unsubscribe using your old email address (see unsubscribe link at the bottom of this news bulletin), then re-subscribe using your new email address at: http://ioccg.org/news/subscribe-ioccg-mailing-list/.
Regarding your physical address for receiving hard copies of IOCCG Reports in the mail, users will be asked to provide a mailing address for each new report requested, using the online form. Several months are required for printing and mailing of a new report, so please provide an address where you can be reached for the next ~6 months.
AOP Protocols in Review
Under the auspices of the IOCCG and NASA, Ken Voss and Giuseppe Zibordi have volunteered their time and expertise to update the in situ radiometry protocols published nearly 15 years ago as part of the NASA Ocean Optics Protocols for Satellite Ocean Color Sensor Validation. This updated draft protocol document entitled "Protocols for Satellite Ocean Color Data Validation: In situ Optical Radiometry" is now available for a public comment and review on the IOCCG website.   Please email comments on the document to: aop_comments@oceancolor.gsfc.nasa.gov (comments are forwarded to Ken Voss and Giuseppe Zibordi). The document aims to support the ocean colour community with protocols for the collection, processing and quality assurance of in situ measurements of the apparent optical properties (AOP) of natural water for the validation of satellite radiometric products. After the review period, the document will be revised based on comments received, formatted, and a final pdf document will be posted onto the IOCCG website.
Periodic updates to the "final" version of this protocol document are planned to account for new and emerging technologies and deployment approaches. Furthermore, we anticipate that the community of experts will prepare additional in situ radiometry protocols to address topics that extend beyond the validation focus of this current protocol. Three members of the ocean colour community have kindly offered to serve on the Editorial Review Board for this report:  Robert Foster (Naval Research Laboratory), Dariusz Stramski (Scripps) and Susanne Craig (NASA GSFC).
Aquatic Primary Productivity Workshop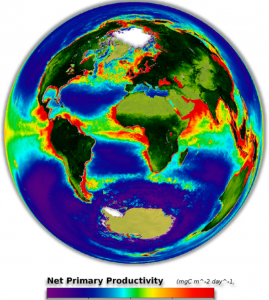 The NASA PACE project, in collaboration with IOCCG, have initiated a new working group to establish standard, community-consensus field protocols for measuring aquatic primary productivity in coastal and ocean waters across diverse methodologies. The working group will meet on 5-7 December 2018 (Columbia, MD USA, https://pace.oceansciences.org/events_appw.htm), to work jointly in the development of a set of community consensus protocols for carrying out in situ measurements of primary productivity and related parameters. The final protocol document will eventually be included in the new IOCCG Protocol Series, which includes the Ocean Optics & Biogeochemistry Protocols for Satellite Ocean Colour Sensor Validation. The objective is to generate recommendations for best practices to homogenize methodologies, and to account for known artifacts and sources of error across the various measurement approaches.
Ocean Colour Accolades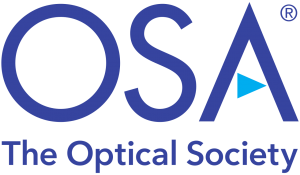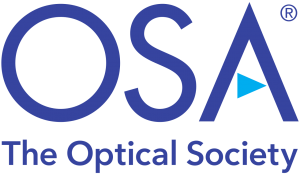 Former IOCCG member, Dr. ZhongPing Lee, was recently elected a Fellow of the Optical Society of America. He was recognized for his "Outstanding contributions in ocean optics and ocean colour remote sensing and breakthroughs in underwater visibility theory." A big congratulations on behalf of the IOCCG Committee!
---
Successful Launch of Chinese HY-1C Mission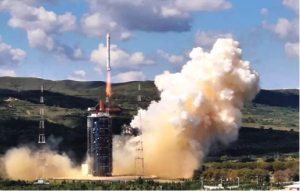 China successfully launched its third satellite in the Haiyang-1 series, the HY-1C ocean colour satellite, on 9 September 2018, from the Taiyuan Satellite Launch Center in north China's Shanxi Province. China's first marine satellite, HY-1A, was launched in May 2002, laying the foundation for an ocean monitoring system, followed by the launch of the HY-1B satellite in April 2007.
The design life of the HY-1C satellite is five years. HY-1C can detect chlorophyll, suspended sediment concentrations and dissolved organic matter (which influence the colour of the ocean), as well as sea surface temperature, contributing to research on the global oceanic environment. Data from HY-1C will also be used in surveys of resources and the environment of China's offshore waters, islands and coastal zones, marine disaster relief and the sustainable utilization of ocean resources. HY-1C is expected to improve China's ocean remote sensing capability, along with HY-1D, which is planned for launch in 2019.
---