2019 Advanced Training Course on Ocean Colour Remote Sensing:
24 – 31 October 2019, Hangzhou, China  

Overview
An advanced training course on ocean colour remote sensing was held in Hangzhou, China from 24-31 October 2019 to promote satellite ocean colour data applications. This training event was sponsored by the International Ocean-Colour Coordinating Group (IOCCG), the European Commission Copernicus Programme, the European Organization for the Exploitation of Meteorological Satellites (EUMETSAT), the State Key Laboratory of Satellite Ocean Environment Dynamics (SOED/SIO/MNR, China), the National Satellite Ocean Application Service (NSOAS, China), and Zhejiang University (ZJU, China).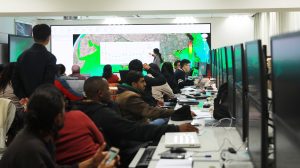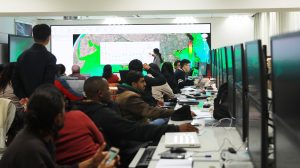 The key objective of this training was to help early career scientists to download, analyze and visualize data from the EUMETSAT Copernicus Marine Data Stream as well as the Chinese HY-1C ocean colour mission.  Participants also learned how to use the Marine Satellite Data Online Analysis Platform (SatCO2) for environmental monitoring and scientific research, including water quality monitoring, red tide detection, and marine carbon cycling/climate change investigations.
Students were encouraged to bring their own laptop computers for the hands-on training sessions, although a limited number of desk top computers were also available for these sessions.
Course Description
The training course  included lectures and hands-on practical sessions, as well as a field investigation to Lake Qiandao to enable students to gain a fundamental knowledge of optical instruments and enable them to make quality measurements.
Lectures
L1. Accessing Copernicus data
L2. Introduction to tools and system set up check
L3. Assessing ocean colour data quality
L4. Chinese ocean colour satellite data HY-1C
L5. Coastal water quality and harmful algal bloom
L6. Remote sensing of marine carbon cycle
L7. Time series satellite records and global change
Hands-on Practical Sessions
P1. Data access (CODA and batch downloading with Python)
P2. Data quality assessment in SNAP
P3. Working with OLCI data in Python
P4. Introduction of Marine Satellite Data Online Analysis Platform (SatCO2)
P5: Harmful algal bloom detection in SatCO2
P6. Air-sea CO2 flux estimation in SatCO2
P7: Time series satellite data analysis in SatCO2
Application 
Early career scientists, including postdoctoral fellows and junior scientists from Asian countries were invited to apply for this training course. Since this was an advanced training course, all trainees were required to have basic experience in using satellite ocean colour data.  The course was limited to 20 participants. A limited number of IOCCG scholarships were available to cover international flights for students residing outside of China, subject to evaluation by a Selections Committee.
Course Sponsors and  Organizers